If you are in need of a picture you saw on my pages for a publication, please contact me, i'm always happy to help (and need only a very little compensdation ;-)), feel free to ask me for details : regis.boissier@free.fr (pictures available in high resolution)
***
Si vous aviez besoin d'une des photographies vues sur mon site pour un usage d'édition, demandez moi, je suis toujours heureux de pouvoir aider et ce contre une faible rétribution ;-) (n'hésitez pas à me contacter pour plus de détails !) (photographies disponibles en haute définition) regis.boissier@free.fr
Here are my contributions to ...
2005
Here is my red Italian SIDA pictured in PHOTO ANTIQUARIA, the high quality magazine of the German Club Daguerre.
This was in issue n°76 dated NOV/2005 (at that time alas, my digital camera was not a very high resolution one !)
2006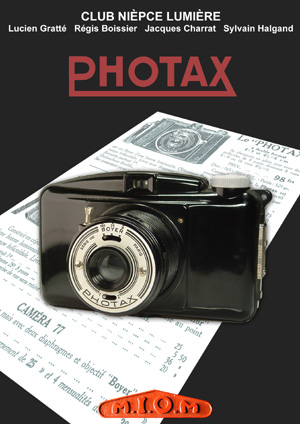 This was the result of an incredible experience : the book about MIOM PHOTAX cameras was co-writed with 3 other collectors (Lucien Gratté, Jacques Charrat & Sylvain Halgand) with the particularity that we never met each other ! This book was concepted 100% by exchanging emails all together...
This book is the first 'special issue' of the Bulletin of the Club Niepce Lumiere, edited in April 2006 at some 400 samples. http://www.club-niepce-lumiere.org
Patrice-Hervé Pont kindly advertised for our book in an article edited in the French photography magazine "Chasseur d'images" n°283 in Mai 2006.
Also we had a short article in a Japanese magazine !
2007
Here is my early (1900) Brownie camera that does appear page 105 of an interesting American book (see cover above ISBN-13: 978-1-59863-405-1 by Thomson Course Technology www.courseptr.com ) by Cynthia Baron, a very kind person who contacted me via my web pages. She is author & co-author of more than a dozen books about photography and associate Director of the graduate program in Digital Media studies at Northeastern University in Boston.
2008
My German friend Harald Schwarzer has an interest in Kaftanski too. The second part of his article about Kaftanski does appear in PHOTOGRAPHICA CABINET a German collector's magazine. I tried to do my best to help him concerning the French part of Kaftanski story. Article include the FEX plant building as it is in 2008 (picture 3) and a scan of a KAFTA advertising (picture 4) that are my picturial contributions.
2008
The second 'special issue' of the Bulletin of the Club Niepce Lumiere is available (march 2008).
This has been co-writted with Hélène & Jacques Charrat & Gérard Bandelier.
It will describe in 200 pages + a CD-ROM including lots of bonus, the history and production of a prolific manufacturer of Lyon, i mean FEX-INDO, my favorite since i began collecting in 1990...
You can already order it at the Club Niepce Lumiere : http://www.club-niepce-lumiere.org
Here we are (the 4 authors from left to right Jacques CHARRAT, Régis BOISSIER, Hélène CHARRAT and Gérard BANDELLIER who is also the NIEPCE LUMIERE CLUB's actual president) in a local newspaper article (LE PROGRES DE LYON), the day after we had a big exhibition of more than 200 FEX cameras and a presentation of the book.
These same day, a projection of a film about Lumiere's workers village and a speech about Lumiere by J-L Princelle was organized by the Club NIEPCE LUMIERE.
2008
This is my short article about FRATI and NICRO-VIC, two Argentine cameras that can be considerred as ULTRA-FEX clones.
Article published in the NIEPCE LUMIERE collector's club review n°145 dated june 2008.
2008
July 2008 : New DIANA book by Allan Dietrich
In which there are my 2 pictures of the Banner Postillon and Diana Rossignol. This is a great book inckuding more than 100 Diana clones and variants, great work ! order it now ! : http://www.blurb.com/books/307668.
2009
March 2009 : Great book from Reed Darmon a nice American guy who gives in 254 pages an idea of French culture of the XX century. I'm glad to have contributed to illustrate modestly by providing 7 pictures.
If you are the author of a book or article who need some picture(s), contact me : candidcamera@free.fr