FRITZ KAFTANSKI
or FOTOFEX before the FOTOFEX...
Fritz KAFTANSKI was born in Essen (Germany) in 1899.
1927- c1936 German Period
FOTOFEX KAMERAS was born in 1927 in Berlin. There were made some wood and later metal box cameras and a few folding.
In 1932 during the Leipzig fair, FOTOFEX presents the VISORFEX and a few monthes later the FEXOR, SIDA TURF, PARLORFEX and MINI-FEX (which was called the smallest camera of the world).
In 1934 comes the SIDA and EXTRA SIDA. This small camera was made in Germany and later in Czechoslovakia, Poland, under license in Italy (G. POZZOLI of Milano) England (British Sida Cameras Ltd), France as for the SIDAX, and may be somewhere else... Even Russian copies of this camera does exist under the name MALIUKTA (means "little one" in Russian).
SIDA metal (PATENT ang ?") and SIDA red bakelite (Italy)
Interessant article in Photo Antiquaria (Club Daguerre) N°76 (in German)
1937-1939 Czech period.
Kaftanski moved to Czechoslovakia with patent of SIDA where production continued.
In 1937 comes the SIDAX 4x4 and in 1938 the FEX 4x6.5 which will become the basis of a very long serial of bakelite made by FEX in France. See FEX ; SUPERIOR, SUPERFEX, first step in FEX history in France.
During this period, it is possible that KAFTANSKI had some contacts with MIOM in France because of very similar shape of the Czech DUFA FIT and PHOTAX BLINDE.
AMA EXCELLA
SUPER EXCELLA
FUTURIT
(marked "importé de Slovaquie" which means imported from Slovakia in French)
These 4 cameras made in Slovakia were probably inspired from KAFTANSKI design. Manufacturer could be KABLO of Bratislava who was the bakelite's camera bodies supplier for FEX Prag.
1939-1941 PARIS
No information about this period. Kaftanski lived near Paris and that could confirm relationships with MIOM PHOTAX ... ?
1942-1945 LYON
1942 is the year of birth of FEX as the most prolific French camera manufacturer.
After he found an associate, Mr BOUCHETAL in Lyon, the first French FEX camera was made during the WWII restrictions, with light wood covered of black paper... but with an ANGENIEUX lens (as this was the nearest lens manufacturer in the free zone). This was the COMPA FEX. (on later models, Angenieux asked that name around the lens being deleted as this was a very poor quality camera !).
Lyon's plant continue to built FEX cameras probably with Kaftanski participation at least til the end of 1950.
1945-1970(?) PARIS
Birth of KAFTA. This company first sold FEX cameras and then create its own cameras KAFTAX and BANCO which looks a little like the PHOTAX. All but the 'KAFTAX rigid' have a pop-up shutter/lens assembled on a cylindrical tube.
As for most of others competitors like FEX & PHOTAX, these cameras used 620 spools.
BANCO 4.5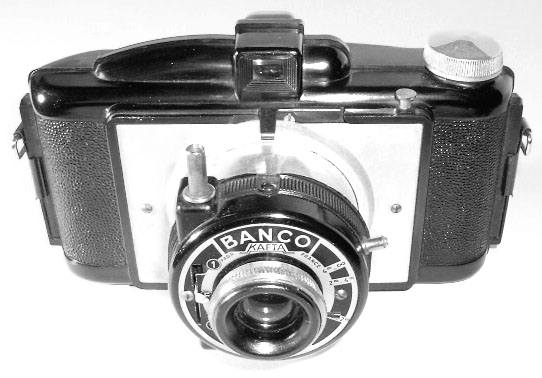 KAFTA BANCO
BANCO PERFECT
BANCO Advertising of the shape of the camera (with kind authorization of Mr&Mrs ROYER)
KAFTAX MP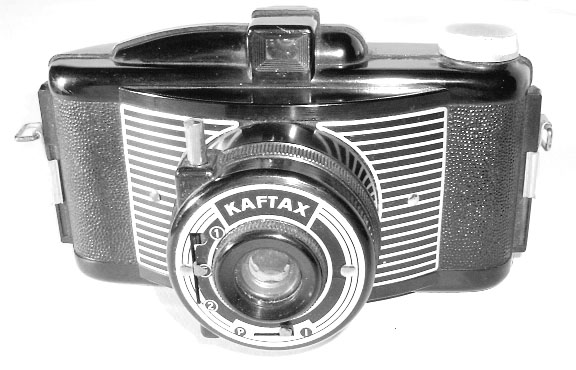 KAFTAX (rigid)
Interesting is this French TELKA X camera made by DEMARIA Paris in the 1950's, the shutter is the same as on the Banco/Kaftax !
STYLOPHOT Patented by KAFTANSKI 1955
The STYLOPHOT dated 1955 design by KAFTANSKI is an other interesting model.
Subminiature camera of a shape of a large pen, using 16mm film in special cartridges.
1948 Advertising for the IRIS extinction meter
(note the KAFTA Co was advertising for the FEX cameras SUPERFEX & ULTRAFEX)
TEMPOR extinction meter a bit more better than IRIS
Advertising for KAFTAX & SIDAX
Here was only a very small part of interesting and long Kaftanski camera manufacturing...
Thanks to Wim LJUIT from the Netherlands for his important search about Kaftanski history ;-)
and for his article translated in the Club Niepce Lumiere bulletin N°95
Now enjoy the FEX prolific production from 1942 to 1980.